Herder's Hill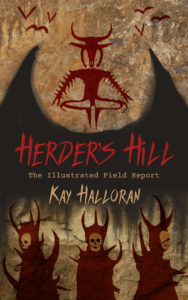 Two archaeologists excavating a mound in rural Turkey unearth a primeval secret from the dawn of human history…
This tale of lovecraftian horror and science fiction premiered as the first episode of The Grimoire Nights Podcast, where it will always be available to listen to, free of charge. This ebook and print version of the story has been further edited and includes illustrations created by the author to optimize the experience for a visual medium. Buying this book is a great way to support The Grimoire Nights Podcast and my work as an independent author!
Available for Purchase Soon!
Dog Days Below the Necropolis
Dog Days Below the Necropolis is a short story of witchcraft and skullduggery set in Greco-Roman Egypt and following Ammonios, the same protagonist from The Parable of The Weighed Hearts, earlier on in his journey.
After his disgrace and banishment from the Serapeum, Ammonios wiles away his days as a calligraphist in a funeral parlor, and at night his dreams are tormented by the sneers of his accusers, and the shadow of the looming cemetery up on the hill. Overwhelmed by the hate in his heart, Ammonios resolves to curse his persecutors and plans a risky excursion to the necropolis beyond the city gates.
This short story is being made available for free on my website as an exclusive for readers who join my mailing list!
(Currently setting this up)